Veltrusy Chateau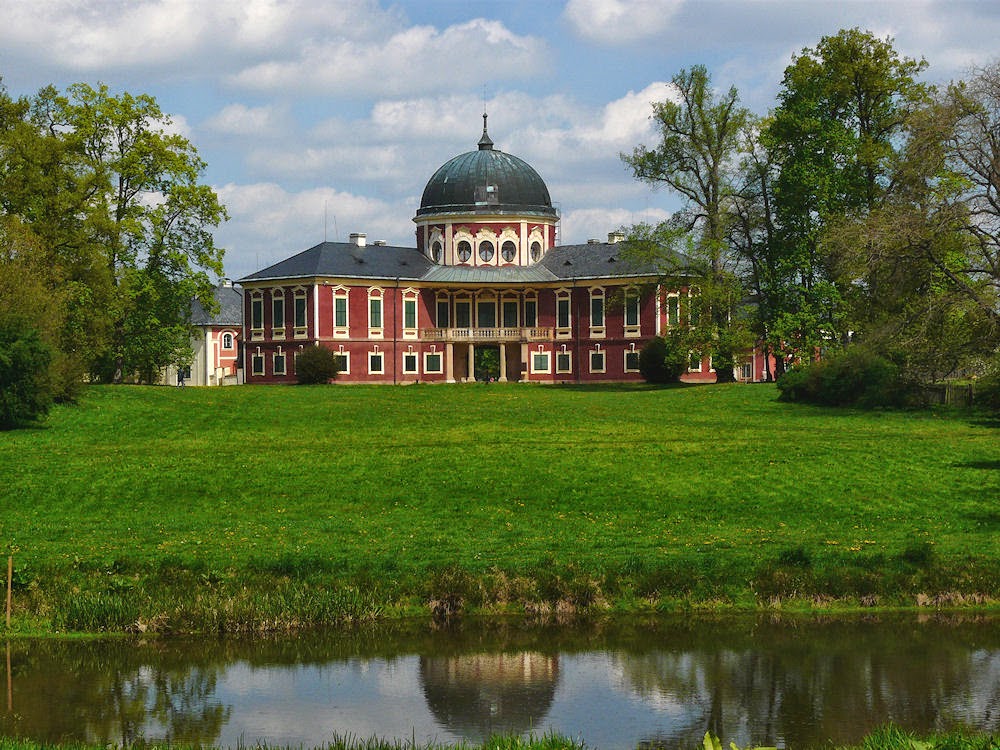 Situated on the banks of the river Vltava about twenty miles north of Prague, the chateau of Veltrusy was commissioned in 1704 for the counts of Chotek. Work began around the year 1706 to a tightly symmetrical plan by the Italian-born baroque architect Giovanni Battista Aliprandi. A number of other architects, among them Jan Blažej Santini, participated in the design.
The north side of the chateau is enclosed by a colonnade of classical statues by Matthias Bernhard Braun, while a double staircase by the Bavarian sculptor Franz Anton Kuen ascends to the first floor, decked out with lively groups of horses and hunting dogs. Among many later developments, the four wings which radiate diagonally from the central rotunda were extended in the 1750s.
The first owner, Václav Antonín Chotek, had hoped that the grounds would rival those of Versailles, but their proximity to the river meant that the French-style gardens frequently flooded, and so the decision was taken to adopt a less formal design in the fashion of an English park. In the late 1700s further flooding caused the stream to be diverted through the park, providing a pleasant meander between statues and temples for visiting dignitaries.
These included the Empress Maria Theresa, who in 1754 attended the Great Trade Fair of the Czech Kingdom – the first of its kind in the world – held at Veltrusy to show off the workmanship of Bohemia to an international clientele.