Josefská 28/8: Church of Saint Thomas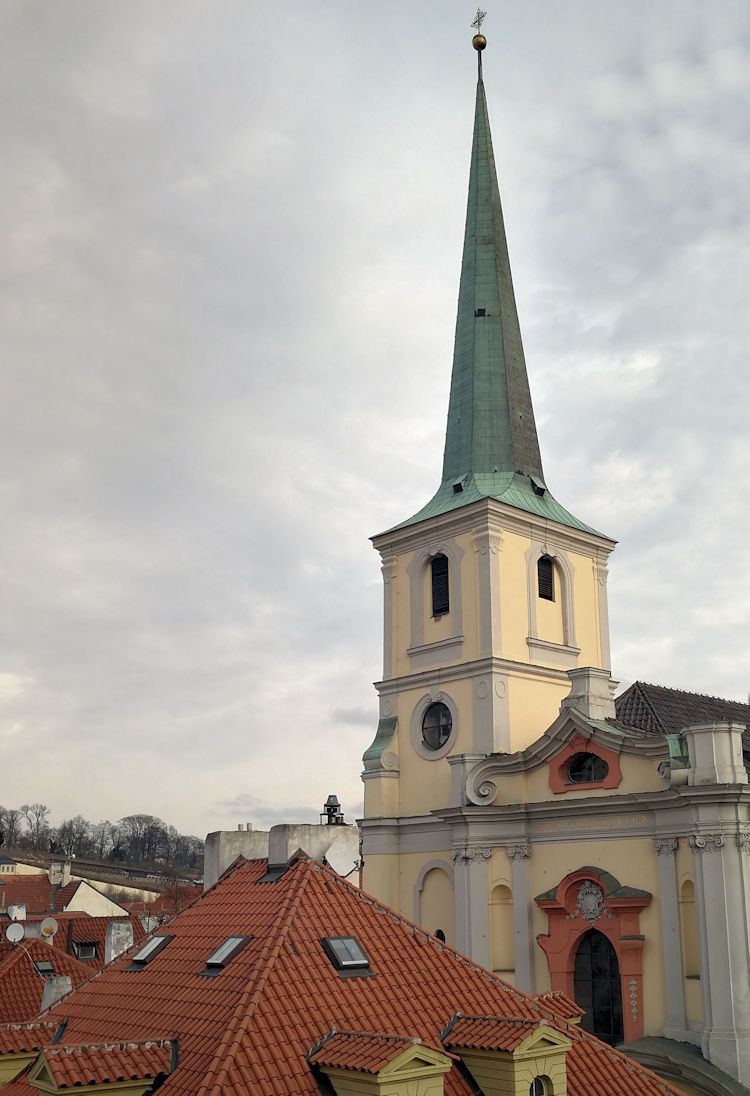 In 1285, twenty years after his father Otakar II first invited the Augistinians to Bohemia, Wenceslas II granted them in perpetuity the church of Saint Thomas in Prague's Malá Strana (Lesser Quarter) district. The church and its adjoining monastery were expanded and enriched during the reign of Charles IV, before falling victim to the Hussite wars of the ensuing century.
The church has had a turbulent history of destruction and restoration. It was burnt down three times, once (deliberately) in 1420, and twice more by accident in 1503 and 1541.  Each time it was reconstructed with a dedication verging on religious fervour. During the Thirty Years' War, its reputation was sufficient for an altarpiece to be commissioned from Rubens.
But still repairs were necessary, and in the 1720s the decision was taken to completely reconstruct the church, a task awarded to the greatest baroque architect of the day, Kilian Ignac Dientzenhofer.
The ceiling contains three frescoes painted by Václav Vavřinec Reiner between 1728 and 1730, depicting scenes from the life of St Augustine of Hippo. In the first, Augustine washes the feet of Christ, who has miraculously appeared to him in the guise of a poor traveller.  In the central panel, the saint's mantle envelops the company of those friars and canons who follow the Rule of Augustine, while the final painting shows Augustine entering the kingdom of Heaven. Between these two is placed the coat of arms of the Habsburg emperor Charles VI, who ruled over the Czech lands at the time of the church's reconstruction.
The church contains the memorials or tombs of many fascinating characters from Bohemian history, including the graves of Rudolf II's chief architect Ulrico Aostali, the sculptor Adrian de Vries, and the renaissance English poet Elizabeth Jane Weston.